JAMB Regularization-What is it and How to Do It.- Latest JAMB News.
Here in this article, we will be discussing the Joint Admissions and Matriculation Board, JAMB regularization (late application) procedure for candidates with no JAMB registration number. So continue reading to see everything.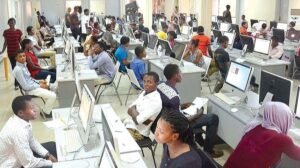 JAMB Regularization (As formerly known)-JAMB Late Application provides the opportunity for candidates that are in any institution but with no JAMB registration number.
The Fees for JAMB Late Application is 10000 Naira only– So you can get the form now and start the application now!
JAMB Regularization Procedure- See How to Do it.
Here are the steps you have been waiting for on how to do JAMB Late Application 2020.
The steps are seventeen, so follow it meticulously.
You shall be required to create a profile via the Sign Up (New User) Pageif you are a new user. For existing users, simply type in your login details. To create your profile, you will provide your valid email address, surname, first name, Mobile No, State and LGA of Origin and password, then click on the Sign Up button. Each candidate is entitled to only one profile.
Subsequently, you shall use your email address and password to sign in.
Once logged in, you will be taken to the landing page where you will see all available services.
Select "Late (Retroactive) Application". This is available on the side bar
Once selected, the menu item "Late Application" will be revealed. Click this.
Once you select this service, a Transaction ID is generated for this service. This will be displayed on the confirmation page screen.
Review the details displayed on the Confirmation Page. Also, note the Transaction ID displayed in a bold red font. The Transaction ID is useful for all future references concerning the Transaction. A copy of this transaction ID will be sent to your registered email address.
Click on the Continue button if you wish to pay with your card immediately. If you wish to use other payment channels like ATM, Cash at the Bank or Quickteller, please note the transaction ID as it will be required.
On the Interswitch Payment page, enter your card details and click on the Pay button.
The status of your payment will be displayed on the "My Payment Section" An SMS and email containing your unique Transaction Identification and payment status will be sent to you after payment. Click on the Continue button.
Once payment is completed, you will be asked to provide the following:
Year of Exam and
b. JAMB Registration Number
After entering the information correctly, the application form will be displayed. You are to fill the application form online. Please take note of mandatory fields.
Click Submit to complete your application
After submission, an Indemnity Form will be displayed for printing.
This is to be filled and taken to your institution for Approval.
Your institution will be responsible for the submission of the approved form to the JAMB state office.
Once received, the Approved form will be uploaded to your profile. You will receive a notification when this is done.
JAMB will now process your application. If Approved, your details will be changed as requested.
Click here to begin the process of  JAMB Late Application or Regularization.
We pride ourselves in providing a high-level educational value to Nigerians in Nigeria, so we believe you fond great value going through this article. Please do not hesitate to share this article, click on the buttons below to share. Also, leave a comment behind, let's know how we can better serve you. Thanks for stopping by.
Recommended Links:
Examstuts Team.
How to Buy Our Past Questions and Answers
Do you really want to get these past questions and answers? Then do not hesitate to follow the instructions here.
PRICE: ₦3000 ₦2,500  (Two Thousand Five Hundred Naira Only)
Make a bank deposit or mobile transfer of ₦2,500 only to the account given below
---
Bank Name: GTBank

Account Number: 0318379097

Account Name: Etuk, Oto-obong Emmanuel
After making the payment Click Here to send the following;
---
Depositor's Name or Screenshot of Payment

Name of the Past Question

Active Email Address

---
To us on WhatsApp or Call 07063986527, Email: Infoatpastquestionpdf@gmail.com or Ottyemmy@gmail.com
Once your details have been received and your payment confirmed by us, you will receive the past question in your email or WhatsApp within 5 Minutes.
---
Why Should You Buy From Us and Not Others
We are not after your money. We want to make sure you offer you the best that is why we are opening a 24hour customer support service for you.
You can call us at any time to guide you with the exams you are about to write. And what's more? When you buy two past questions, we give you one for free. If you buy a set of past questions, for example, a set of WAEC Past Questions, we give you a discount of N4000! (Please tell your family and friends).
We offer the best deal with a guarantee!
If you study very well with our past questions and you still fail, contact us and we will return your money!
If you do not get the material after 24hours, you are free to ask for a refund!
We are free for other help and services. Contact Us now!
---